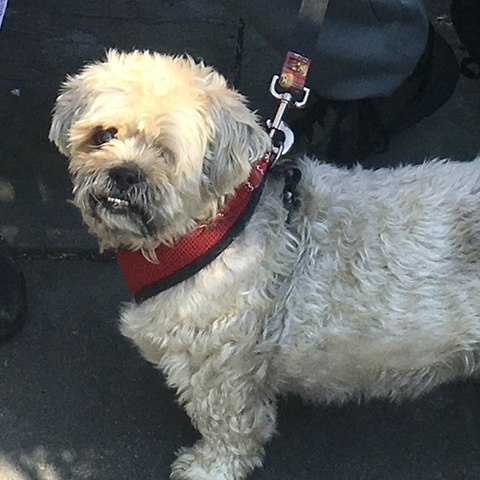 Several years ago, we were asked to take in a dog who had been badly abused. The poor dog had been bought as a puppy and was beaten and kicked by people who should never have
had a puppy in the first place. Finally, a nice woman convinced the abusers to let her have the dog. She named him Peluche, meaning fuzzy bear in her language. Years went by, and Peluche was doing well. Then, the woman's husband decided to return to his native country, leaving his wife and special needs son (and Peluche) to fend for themselves. Despite her best efforts, the woman could not afford the rent they were paying and had to move. Sadly, she could not find a place she could afford where Peluche would be welcome.
She contacted several shelters and rescues, but none would help. Peluche was around 7 years old and had some memories of his past abuse. He would need special consideration in handling and placement. The owner said, for example, that Peluche did not like his head touched (which is understandable if he was kicked and hit). She was unable to find a shelter or rescue willing to make that kind of commitment. When we learned of her plight, we offered to take Peluche. The owner wept with appreciation at the relief she felt, knowing her beloved dog was going to be taken care of and not killed.
Although Peluche's former owner tried to take care of him medically, she could not afford much more than basic vaccinations from low cost clinics. Hence, when we got him in residence, we started to notice various issues with him. His one eye seemed sensitive, and he never fully raised his head as a normal dog would do. Eventually, our veterinarian and an orthopedic vet were able to determine that he had suffered damage to his neck and spine as a result of the abuse in his younger years. His eye problems were believed to be caused by the abuse as well
Again, we are faced with decisions about what we can do for the dog who, though no fault of his own, had lost his home, his family, and some of his body function. Our response in such situations is always the same: we will try to do what is best for the animal. Peluche responded well to some orthopedic treatment by a specialist and seemed more comfortable with his neck movements. The eye had very little sight left but was able to be treated with medicated drops to reduce irritation. Peluche improved quite a bit but still reacted to people touching his head.
Because Peluche is a cute, smaller dog (considered more marketable in shelter circles!), some people expressed interest in adopting him. Obviously, he could not go to a home with rough dogs or undisciplined kids. But he seemed to have potential for placement, after about a year or so of recovery.
Part of our commitment to each animal is finding them a home that suits their needs as well as the adopting family's. Animals are not merchandise to be sold at clearance prices! And victims of abuse like Peluche should not be subjected to more abuse by disappointed owners or go from one placement to another. It makes no sense to spend months, or years, rescuing and rehabilitating an animal, only to have it placed in another bad situation. Thoughtless placement is NOT part of responsible and caring rescue!
Over the years, Peluche had some families interested in him, BUT most did not like the fact that he was sensitive around his head. One family decided that he just wouldn't be right for them because he was "a Spanish speaking dog." Yes—believe it or not: because he was raised in a home that spoke Spanish, he was not a good choice for them!! Finally, we had a great home for Peluche: a lovely older woman, a widow with no other pets, and a great record of responsible dog stewardship. She didn't care that Peluche's irritated eye had to be removed, or that he had developed a slight heart murmur. She said "I'm old too, and I have some health issues."
The date was set for Peluche to go to his forever home, but the nice lady never kept the appointment. When we called her, she said that she had just fallen and the hospital thought she had broken her hip. Obviously, the adoption was not going to go through. She could hardly take care of herself, let alone take care of a new dog. So, Peluche again remained with us.
A few months ago, a wonderful family who had adopted several animals from us (cats and dogs) over the decades was looking for another dog after their last AID dog and an AID cat passed away at a ripe old age. We thought that they would not consider another older dog, after two they had for many, many years. But they had met Peluche before, when the mother had volunteered at the shelter, and they were willing to give him a loving home for the rest of his life.
It takes very caring people to look at an older or special needs animal and see all the possibilities with that animal, rather than seeing the limitations. If everyone could focus on the good in all of us, rather than our negatives, the world would be a perfect place for creatures great and small. Peluche is doing well. He is being a gentleman around the family's cats and is enjoying having a family of his own. By the way, since his eye was removed, he is a lot less sensitive about having his head touched. He may not have sight in that eye, and he may have lost most of his hearing, but he can "see" and "hear" with his heart. Wouldn't the world be a better place if we all could learn to do that?