CALLING ALL VOLUNTEERS !
If you are taking the time to read this, you must be an animal lover! Volunteering at Animals In Distress is a great way to show your love of animals. It is a wonderful opportunity for parents and children, teens, retirees and pet owners. Our dogs and cats love the extra attention and our busy staff appreciates the help.
Volunteers are key to our organization. Only the staff that works directly with the animals are paid. Everyone else you will meet when you visit our Kennel of Hope, including our Board of Directors, are volunteers.
Let's get down to business. Here is some important information and guidelines about volunteering at Animals In Distress.
Volunteers must be at least 16 years of age. An adult must accompany anyone under 16 years of age wishing to volunteer.
You must be 18 years of age to volunteer in the Dog Kennel. Children 8 years and older are encouraged to volunteer in the Cat Kennel and get involved with other things such as manning booths, bake sales, pulling weeds, etc.
Each volunteer must attend a Volunteer Orientation, which are held every other month usually on the fourth Tuesday. Visit our event calendar for upcoming orientation dates. Each volunteer must complete a Volunteer Application, a Volunteer Release Form, and a Confidentiality Form. Parents or guardians must initial forms for children under the age of 18.
Be reliable as well as punctual. Notify the Volunteer Coordinator or Staff Supervisor as soon as possible if you are delayed or unable to keep your scheduled shift.
Maintain a professional attitude at all times with the public and the staff.
Ask the staff any questions when you are not sure of the absolute correct answer.
Volunteers must sign-in and sign-out in the volunteer time log, located in the dog or cat kennel, or at the Hospitality Desk (hospitality volunteers).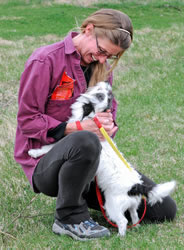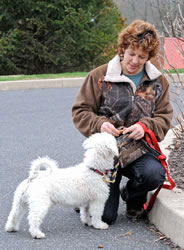 VOLUNTEER OPPORTUNITIES
Cat Kennel Assistance:
Includes general cleaning (including scooping litter, scrubbing floors, doing laundry, etc.) and socializing with our more than 300 cats. Children under the age of 16 must volunteer with an adult.
Dog Kennel Assistance:
Must be 18 years of age. Includes general cleaning of the kennel including scooping, washing laundry, scrubbing floors etc. Volunteers can walk dogs if time allows.
Hospitality Center Assistance:
Includes general customer service duties during public hours, light cleaning of the Hospitality Center, and some secretarial work such as data entry, filing, etc. Your assistance is needed during our public hours: Tues., Thurs., Sat., and Sun., 1-4 p.m.
Outside Maintenance:
Includes lawn mowing, tending shrubs and flowers, and possibly general building maintenance. Hours will vary. Plan to become active in mid-April.
Kennel Emergency Assistance:
Includes snow removal during storms and possible assistance with the animals when the staff is unable to travel to the kennel due to the weather, or ability to drive staff to the kennel (four wheel drive owners). Hours will vary. Prefer volunteers who live close to the kennel.
Hospitality Center Cleaning Crew:
General cleaning of the Hospitality Center including cleaning display cases, bathrooms, floors, benches, and the kitchen area. Prefer volunteers who can commit to a weekly or bi-weekly schedule. Great job for parents and younger kids. If scheduled when kennel staff is here, will be given an opportunity to socialize with cats.
Fundraising:
Includes manning tables at events, coordinating events, or serving on the Fundraising Committee. Events include Alumni Day, walkathons, Radiothon, and other events as assigned.
Other Volunteer Opportunities:

Bakers – able to donate baked goods for bake sales and also baked treats for cats and dogs. We are always in need of biscuit bakers to donate items that can be sold at upcoming events. Click here for tasty recipes made of healthy ingredients and lots of love!
Basket Donors – able to donate baskets of gifts/themed baskets for raffles and other fundraisers. Contact us for additional information.
Donation Cans – able to place and collect donation cans at local businesses. We supply the cans.