One of the most inspiring aspects of our work is watching animals who have suffered so much as they regain their health and start to heal. They are so brave, so determined, to make the most of the chance we have given them. For many of them, Animals in Distress is the first place they have felt safe and loved.
When we rescue an animal is very bad physical shape, we have no idea what to expect. One such case involves a recent rescue of a cat we named Hannah. Hannah had been scrounging for her food as part of what was supposed to be a feral colony. Like most outside cats, she was subject to various dangers, from cruel people, to aggressive animals, to inclement weather, to car and other accidents: the list goes on and on. One day, Hannah didn't appear to be doing well. The woman who was feeding her colony grew increasingly concerned over several days as Hannah got weaker and weaker until finally the poor cat could not move. Hannah laid on the woman's patio, in effect dying slowly. The woman was unable to afford veterinary care and called around to several rescues and shelters for help. None responded or were willing to do anything. Although Animals in Distress was out of the woman's geographical area, she contacted us in desperation. We could not allow that cat to die slowly and in misery. Two of our volunteers made the trip to get Hannah and were saddened by what they saw. The poor cat was clearly unable to do much for herself, and the thought that she would die slowly, alone and in misery was unbearable.
Our veterinarian did a complete examination of Hannah and, over several days and after many tests, we found out the following. Hannah had a bullet in her shoulder. Yes, some sick person had used her for target practice. There has been an epidemic of people shooting cats (even some dogs) "for fun." In Upper Milford Township, which is near our shelter, the police are investi- gating an alarming epidemic of such cruelty. In addition to being shot, Hannah had been crippled, suffering neurological damage that made her unable to walk or control her bowels and bladder. Sadly, the doctor determined that her injuries were caused by someone kicking or hitting her. And as if all that were not bad enough, we discovered that Hannah was not feral at all. She obviously had been a pet at some point, until she was discarded and left to fend for herself. At only a few years old, she had been through so much. She had prob-
ably gone up to the person who crippled her, trusting that she might make a friend there.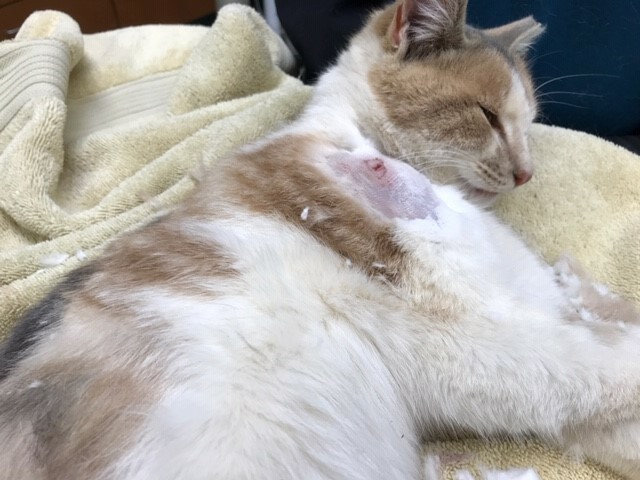 Here is where we come back to our definition of rescue. Do we euthanize Hannah? Do we try to help her? What if she never walks again? What if her other problems continue? Those are legitimate questions, but there is only one answer for us: we have to try to help her. She has suffered so much and been abandoned by others: how can we not do something to try to help her? There are no guarantees. There is only hope…and faith…and a belief in good things happening if we never give up hope.
The bullet was removed from her shoulder and supportive care allowed her body to regain some strength. The body has an in- credible ability to heal when given a chance, and Hannah tried so hard to take advantage of the chance she had been given. She was eating well and eventually started to show a little twitch in her toes. That can be a sign that her damaged nerves are starting to heal.
Meet Hannah Today!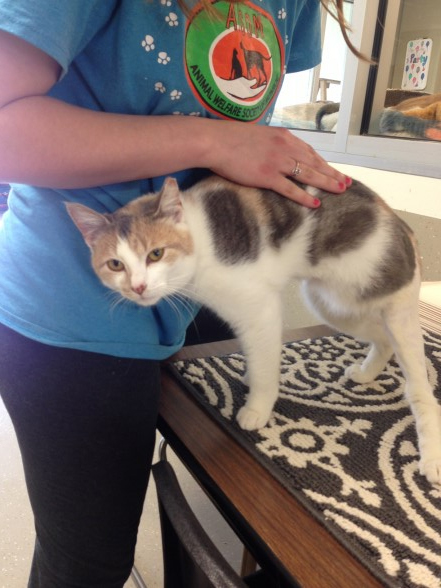 Would you like to know what is happening with Hannah? Obviously, we continued to care for her. Physical therapy exercises are done for her several times a day, to encourage her nerves and muscles to heal. She is so good-natured about all of this handling: imagine how unfair it was to label her as feral and consign her to a precarious life out in the streets.
Then, one wonderful day, right after Easter, staff excitedly reported that she was actually standing in front of her food dish!! She was wobbly, of course, and couldn't stand for long: BUT SHE WAS STANDING!!!!
For an animal who couldn't move her back legs to actually drag herself up into a sitting and then a standing position—for that to happen—nerves and muscles must be getting healed and strengthened. We were so happy for her: words cannot express our joy. Some things are so precious and life affirming, that we must take a pause and celebrate them. Especially in these sad times, we need to remember that small victories are possible, but only if we try. Giving up on these animals is not an option. Giving up on Love, Kindness, and Hope is not an option—at least, in the world of Animals in Distress.
Hannah is now being fostered by AID Board member Kelly Hartnett, who has adopted several special needs cats from us. Kelly send us regular reports of Hannah's improvement. Hannah now plays with toys, something we don't think she knew how to do before. Hannah likes to hide the toys under furniture, so Kelly thought she would put towels under Hannah's favorite hiding places so Han- nah could not hide the toys there. Hannah had other plans: she removes the towels from her hiding places and then places her toys where she thinks they need to go!