Holiday Tributes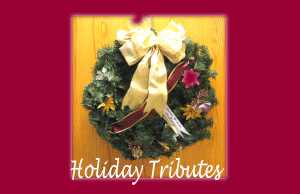 Help us decorate the shelter for the holidays and do something special as well. In all Tribute categories, the person's or pet's name(s) will be printed on velvet ribbons attached to the Holiday Tributes. The display will be unveiled at the Christmas Open House on December 4 and continue through the New Year.
A personalized announcement of your thoughtful gift will be mailed directly to each recipient you designate on the enclosed form. If you prefer, we will send the announcements to you so you can deliver them personally.
Please consider honoring a family, friend, business, or special pet or person by selecting one or more of these very special donor holiday options:

Poinsettia Tribute with Name of Person/Pet Honored–$35
Special Ornament with Name Honored–$75
Special Wreath with Name(s) Honored–$250
Please print and mail this form: Holiday Tribute Form
The Holiday Tributes will be displayed at the December Open House and will remain on display until after the New Year.
Please allow our volunteers adequate time to process your request. Tribute requests postmarked by December 10 will be guaranteed to arrive where designated before December 25. Tributes received after that time will be processed as soon as possible, and displayed at the shelter immediately after we receive them.
For more info: contact our website at animalsindistresspa.org, email [email protected], or call 610-966-9383.